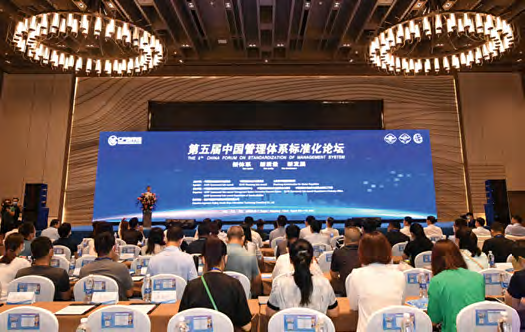 The 5th China Forum on Standardization of Management System was held on August 10-11 in Qingdao, Shandong province. Themed "new system, new quality, new development", the forum was co-hosted by the Commercial Sub-Council of China Council for the Promotion of International Trade (CCPITCSC), Shandong Administration for Market Regulation and Shandong Council for the Promotion of International Trade.
Approximately 4,000 attendees participated in the forum in hybrid forms, including representatives of local trade promotion associations, chambers of commerce, enterprises, leaders of local departments for market regulation, chairs of ISO technical committees, and experts from ANSI, University of Tokyo, Japan National Institute of Advanced Industrial Science and Technology, etc.
The forum highlighted the emerging trends and practices in management system standardization, and gathered useful opinions to facilitate the development of this domain. The participants shared their views on all-round management issues, such as quality management, environment management, occupational health and safety management, compliance management, asset management and knowledge management.
Several association standards on enterprise risk control, requirements of auditors' vocational abilities, etc., were released at the event together with the cases of Good Practice of Management System in China in 2022.
The Qingdao Initiative was also issued at the forum. According to the Initiative, a synergistic work mechanism will be established to correlate the national trade promotion system and market regulation system, and implement the MoU signed between CCPIT and SAMR. The forum will be held periodically, and cases of Good Practice of Management System in China will be published simultaneously; the China Management System 50 Experts Forum (M50) will be convened as a platform to explore a new path for management system standardization; latest standards for management system will be timely introduced to help China better engage in the global value chain.