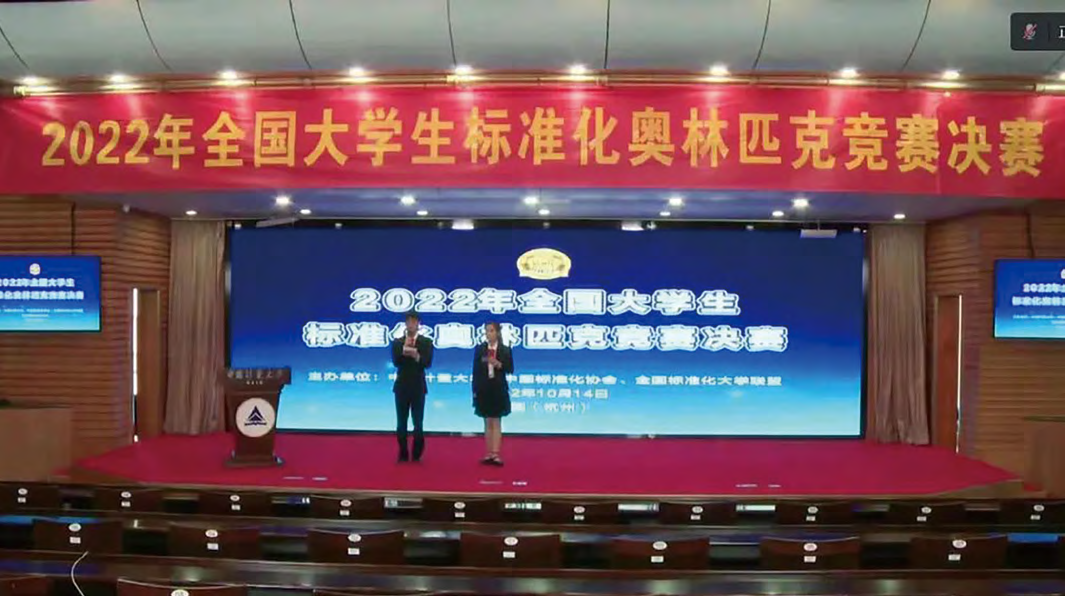 Hosted by China Association for Standardization (CAS), China Jiliang University (CJLU) and National Standardization Association of Universities, the final round of the 2nd National Standards Olympiad for College Students was held in hybrid forms on October 14, the 53rd World Standards Day.
Kicked off in March, the Standards Olympiad sets up seven subjects of standardization, covering carbon peak and neutrality, smart cities, green campus, public service, popularization of science, digital era and sustainable development. The event arranges three competition categories for students from standardization major, non-standardization major and vocational colleges.
The competition played a big role in cultivating talents for standardization, praised by officers at the opening ceremony of the final round, which was attended by Jin Shangzhong, Vice President of CJLU, Xu Jianjun, Director of Standards Implementation and Supervision Division of Standards Innovative Management Department, SAMR, Zhang Xiuchun, Secretary-General of CAS, and Zhang Kehe, Deputy Director of Standardization Division of Zhejiang Administration for Market Regulation.
In total, 2,024 students of 356 teams from 85 universities and colleges participated in the Olympiad, and 31 teams reached the final. The "Imminent food management and service specifications for electronic commerce platform" project from CJLU and the "Specifications for the construction of smart package locker in communities" project from Qingdao University were both awarded the first prize of professional pision. The "Research report on building the standards system for the infrastructure of science popularization" from Central China Normal University won the first prize of non-professional pision, and "Standardization of inventory management—A case study of enterprises in Zhaoqing" from Guangdong Business and Technology University won the first prize of vocational college pision.
"We will cater to the demands of standardization industry, and cultivate more qualified standardization talents. With joint efforts of CAS and National Standardization Association of Universities, we will meticulously organize the National Standards Olympiad to support China's standardization," said Zhang Pengyue, Dean of the College of Standardization of CJLU.