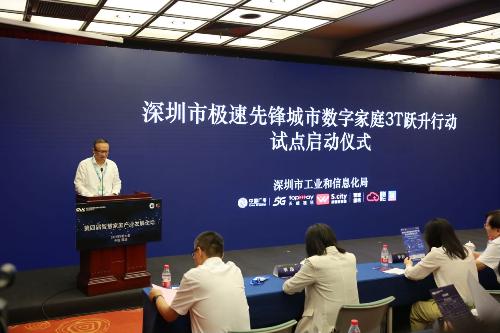 Jointly hosted by China Electronics Standardization Institute (CESI) and Shenzhen CESI Information Technology Co., Ltd., the 4th Smart Home Industry Development Forum was held in Shenzhen, Guangdong province.
Themed "Integration: the reality and future of smart homes", the forum was attended by Zhao Xinhua, President of CESI, Li Ting, Director of Consumption Electronics Division, Electronic Information Department of MIIT, leaders from Industry and Information Technology Bureau of Shenzhen and Shenzhen Communications Administration, as well as approximately 100 experts from home appliance enterprises, operators, AI companies, research institutions and universities.
According to Zhao Xinhua, the forum offers a platform for stakeholders to discuss the future development of smart homes. Focusing on the topics such as the construction of standards system for smart homes, smart home industry ecological pattern, intelligent evaluation technology and tools, and demonstration and application of smart home solutions, the attendees exchanged their ideas, effectively promoting the innovation and development of smart home industry.
Li Ting pointed out the measures for the high-quality development of smart home industry, such as promoting breakthroughs in key common technologies, enhancing integration and communication for an open environment, and regulating the industry for healthy development.
The launching ceremony of Shenzhen's pioneer digital home "3T" pilots was held during the event, which is designed to create a Shenzhen model for China's modernization construction in the field of smart homes.
The forum facilitates upstream and downstream enterprises to better understand governmental policies and plans, and offers an opportunity to carry out business cooperation.