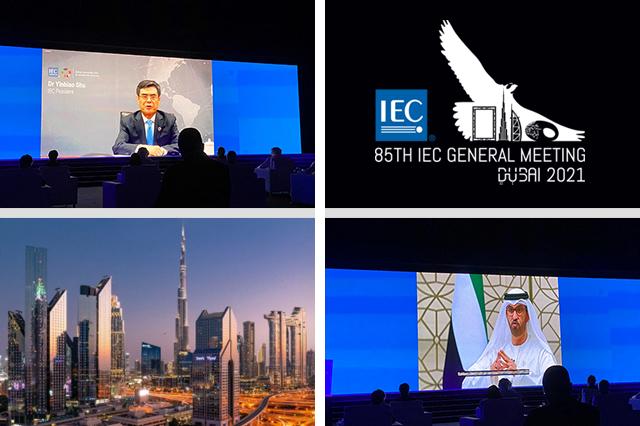 The IEC President, Shu Yinbiao, has opened the 85th IEC General Meeting in Dubai, where it is being hosted by the IEC National Committee of the United Arab Emirates. It is the first hybrid IEC General Meeting that participants can join either in person or online.
The UAE Minister of Industry and Advanced Technology, Dr Sultan Ahmed Al Jaber, welcomed delegates and IEC officers to Dubai. "The role of standardization is more important today than ever, especially as global growth begins to return after the COVID-19 pandemic," he said.
"I am confident that your meetings will shed light on the best practices in this vital field which enhances our products' ability to compete and gain access to various global markets."
Dr Shu said, "The IEC General Meeting offers an opportunity to take stock of the past year and address some of the challenges that the IEC will need to consider in the years ahead."
"The circumstances worldwide are uncertain," he continued. "We are facing environmental, health and economic challenges."
"I believe, however, that the IEC has an essential contribution to make in helping to address these challenges. Over the course of the next week, we will have the opportunity to delve into these issues and determine how we can lead the IEC into the future."
The theme of this year's IEC General Meeting is Leading industry 4.0 through standardization. Industry 4.0 is fuelled by new technologies that offer intelligence, automation and a new level of efficiency.
Advanced technologies such as the Internet of Things, cloud computing, and artificial intelligence make it possible to collect, share and analyse huge volumes of data. IEC Standards enable users to fully secure the benefits of Industry 4.0, including defining the requirements for the safety, performance and interoperability of technology.
During the 85th IEC General Meeting, the IEC Market Strategy Board will organize a conference that will examine the topic of safety in the new digital environment. Participants in the IEC Affiliate Country Programme will share their experiences on such topics as persity and stakeholder engagement.
The IEC Academy and Capacity Building Day will explore how to support stakeholders given the parameters of the 'new normal'. This year, for the first time, the IEC General Meeting will bring together Young Professionals for a workshop that has been extended from three to five days.
Nearly 600 participants representing 172 countries are attending the IEC General Meeting. It took place from October 3 to 7.
(Source: IEC)