Giant panda, with distinctive black and white coat, is adored by the world and regarded as the national treasure of China. According to the research data, panda has lived on the earth for at least eight million years, that's why it is known as the "living fossil".
With a round face, bulky body, strong arms and legs, giant panda has taken bamboo rather than meat as its principal food for at least three million years. The species symbolizes peace and harmony, which is pursued by the Chinese people for more than 5,000 years. Lovely appearance, long history, rareness, and peaceful nature from the Chinese traditional culture, all these characteristics make giant panda unique and become the national treasure of China.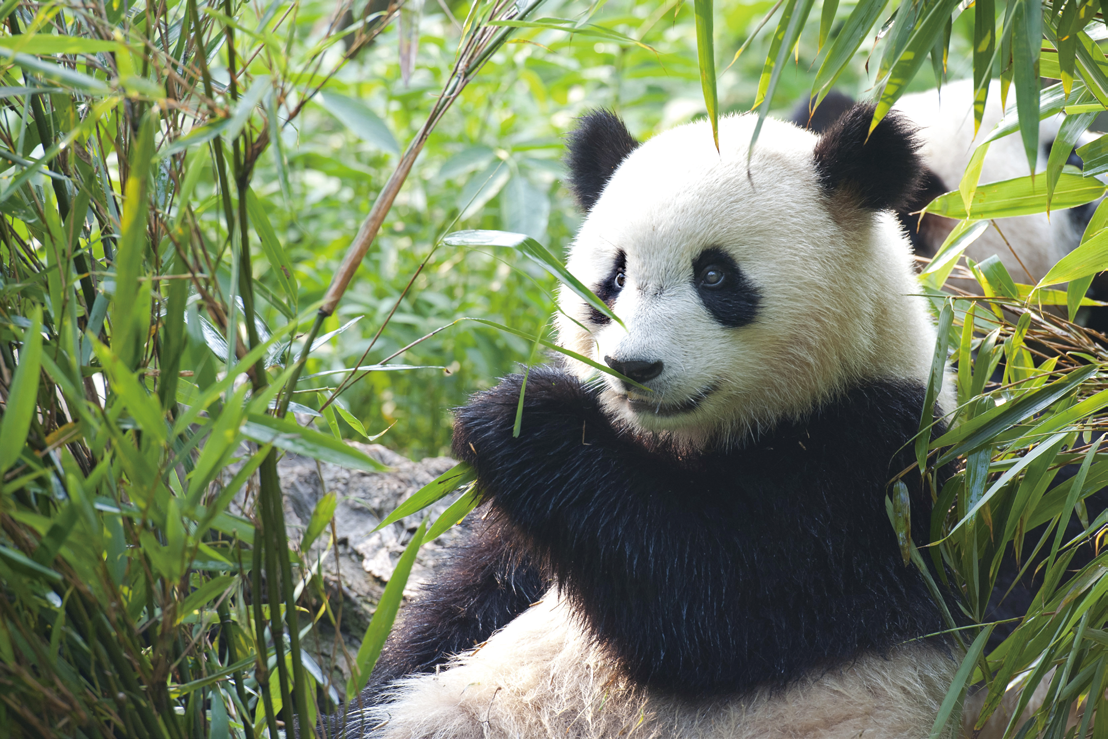 Once endangered species
Giant panda had long been considered as an endangered species by the International Union for Conservation of Nature (IUCN).
There are many reasons for this. Indigenous to China, pandas live in temperate forests in the mountains of southwest China. They are very picky about food, and their diet heavily rely on bamboos. As much as 90-98 percent of pandas' diet consists of the leaves, shoots and stems of bamboo, which is available in most forests of southwest China. They must eat about 26 to 84 pounds of bamboos every day, depending on the parts of bamboo they eat.
Human's poaching of pandas and destruction of their habitats have restricted the species to remote fragments of mountain habitats along the eastern edge of the Qinghai-Tibet Plateau in the three provinces of Sichuan, Shaanxi and Gansu. Forest loss reduces pandas' access to the bamboos they need to survive. Periodic flowering and massive die-offs of bamboos have also brought starvation. These are the most serious threats to their survival.
From "endangered" to "vulnerable"
To protect the endangered giant pandas, the Chinese government has made great efforts to preserve their habitats and link important biological corridors for decades, which spanned over three provinces and two of the country's largest river basins.
Since the 1960s, China has successively established 67 giant panda sanctuaries, 46 of which are located in Sichuan province. Sichuan has protected and restored the habitat of pandas by carrying out projects of returning farmlands to forests, research on artificial breeding and experiment of sending captive pandas to the wild.
After launching the pilot project of giant panda national park in 2018, Sichuan has invested about 400 million yuan ($59.28 million) to construct the biological corridors of giant pandas, restoring 68 kilometers of vegetation along the corridors and 28 square kilometers of habitats and creating favorable conditions for isolated small population of pandas.
Now, the Sichuan Giant Panda Sanctuaries is the home to more than 30% of the world's giant pandas and one of the most important sites for their captive breeding. The sanctuary is also a refuge to other endangered species such as red panda, snow leopard and clouded leopard. It is among the botanically richest sites of the world, and is home to between 5,000 and 6,000 species of flora. Because of biopersity conservation, these sanctuaries were listed as UNESCO World Heritage Sites in 2006.
As of now, the population of giant panda is 1,864 in the wild and 673 in captivity. The extinction risk of panda was changed from "endangered" to "vulnerable" by IUCN in 2016, thanks to China's efforts in the protection of pandas and restoration of their forest habitats over the years.
Umbrella effect
The Sichuan Giant Panda Sanctuaries is an alive museum to some extent, as it is one of the botanically richest sites in the world. It was also selected as one of the biopersity hotspots in the world by Conservation International, an international organization working on spotlighting and securing the critical benefits that nature provides to humanity. Now 36 areas as biopersity hotspots represent just 2.5% of the earth's land area, but support more than half of the world's plant species as endemics and nearly 43% of bird, mammal, reptile and amphibian species as endemics.
Giant pandas, serving as an umbrella species, protect other species of flora and fauna in their habitats. "The Sichuan branch of Giant Panda National Park has protected more than 8,000 kinds of flora and fauna by making pandas playing a crucial role as umbrella species. We have found other rare animals in this area for more than 1,600 times during patrol," said Ran Jianghong, President of Sichuan Association for Wild Animals and Plants.
Song Dazhao, head of China Felid Protection Union said, generally speaking, umbrella animals are those on the top of the food chain. To protect them, you must conserve the habitat and the whole food chain. But giant panda is an atypical umbrella animal, and mainly eats bamboos rather than meat.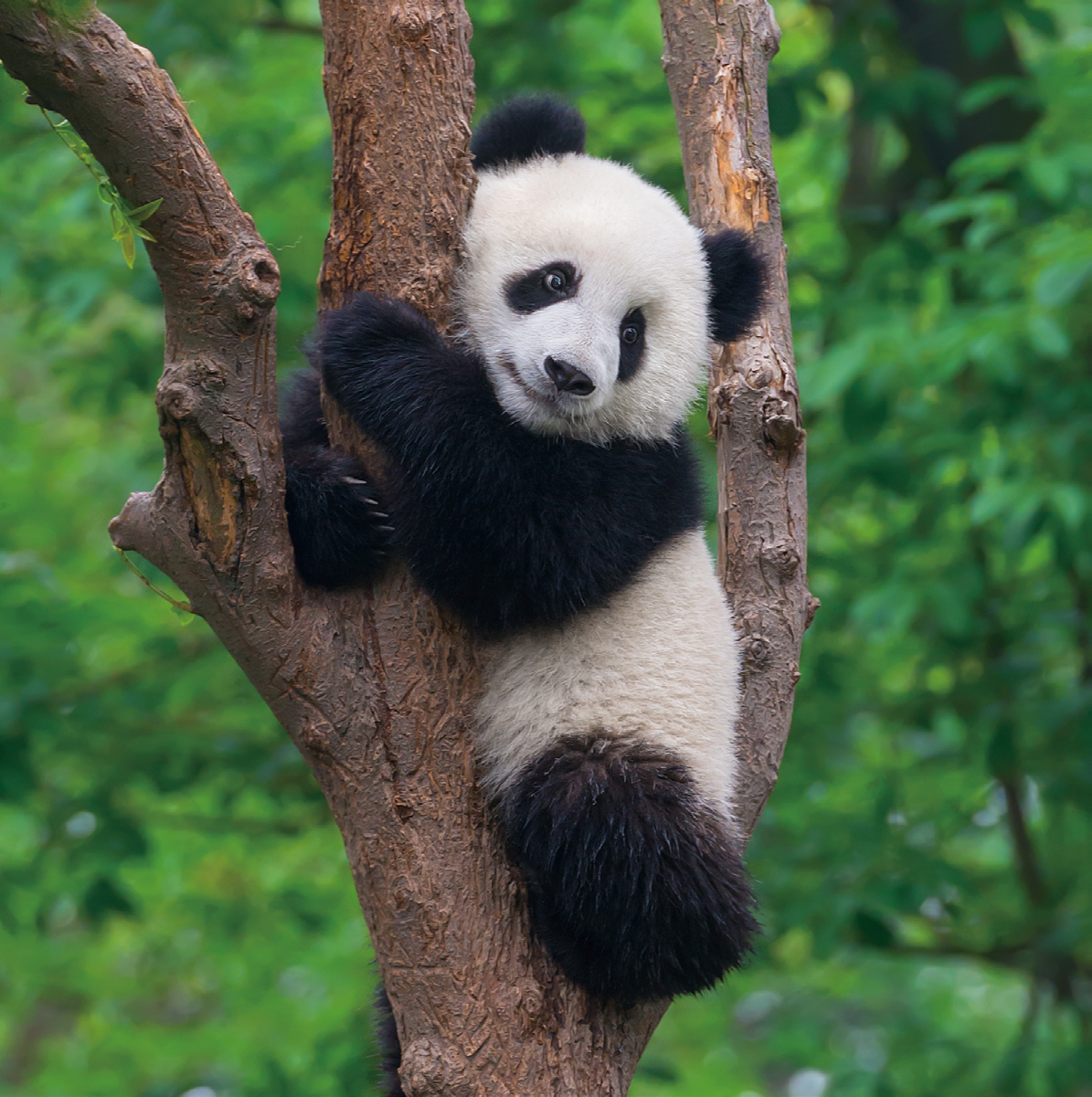 Vital role of standards
Standards play a big role in protecting giant pandas, restoring their habitats and improving biological persity in China. The national standard HJ 623-2011, Standard for the assessment of regional biopersity, defines the indexes and their weight, data collection and processing, calculation method, and classification of biopersity assessment, which helps understand the conditions, regional distribution and trend of changes of biopersity across the country so as to improve the management of biopersity protection.
The sectoral standard LY/T 2365-2014, Technical regulations of the vegetation restoration in habitat of giant panda, stipulates the goals, principles and measures of restoring vegetation in the habitats of pandas. Another sectoral standard LY/T 1845-2009 provides requirements for the monitoring of giant panda and its habitat.
Sichuan, known as the home to wild pandas, has also developed a local standard for the restoration or reconstruction of pandas' habitats, which may be destroyed by natural disasters or human destruction. DB 51/T 2028-2015 defines requirements for the selection of species, technical points, monitoring elements, etc., in the restoration or reconstruction.
Panda Friendly Certification, the first of its kind, was proposed by World Wild Fund for Nature (WWF) based on its rich experience in giant panda conservation, and was released in Chengdu, capital of Sichuan in October 2018. If a product receives the certification of "Panda Friendly", it means that it is produced in the panda distribution area, contributing to panda conservation and community livelihood and meeting the requirements of sustainable development.
The surrounding areas of giant panda habitats are remote regions lack of access to transportation. Common business model utilizing large-scale resources may pose threats to the habitat and is also not sustainable. So only delicate and sustainable commercial model is suitable for these areas. The products passing the Panda Friendly Certification have both excellent quality and added value of public benefits, and the certification is expected to address the issues of protecting giant pandas and alleviating poverty in a biological friendly way, said Jean-Paul Paddack, Director of Global Initiatives of WWF.
Living in the broad forests with a profusion of vegetation, giant pandas and other species are enjoying their time without human destruction. The biopersity in the habitats of pandas underpins human society, because there would be no human society at all without species.