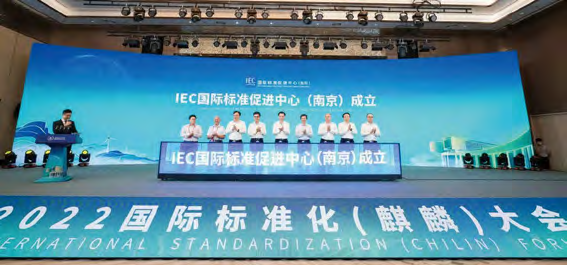 International Standardization Forum 2022 was convened on August 20 in Nanjing, Jiangsu province, which is another vital international conference held in China since the 83rd IEC General Meeting in 2019. During the forum, the IEC International Standards Promotion Center (Nanjing) was established, which is the first branch of IEC in China.
Directed by SAMR (SAC) and Chinese Academy of Engineering, the forum was jointly hosted by the Nanjing Municipal People's Government, Chinese Society for Electrical Engineering, State Grid Corporation of China and China Huaneng Group. Tian Shihong, Vice-Minister of SAMR and Administrator of SAC, Shu Yinbiao, President of IEC, Zhou Guoping, Chairman of the Board of China Anneng Construction Group, Xu Kunlin, Governor of Jiangsu province, and other officers attended and addressed the forum.
Philippe Metzger, Secretary-General of IEC, Sergio Mujica, Secretary-General of ISO, Zhao Houlin, Secretary-General of ITU and Lu Yong, Vice-President of All-China Federation of Industry and Commerce made speeches via video.
China has always been a significant participant and contributor of international standards, said Shu Yinbiao. With the goals of carbon peak and carbon neutralization, China continuously deepens cooperation with international standardization organizations like IEC, promotes the development of relevant standards system, and sets up conformity assessment service platform in accordance with international regulations. China will further boost the low-carbon development by utilizing standardization, and build a community with a shared future for mankind and a clean and beautiful world.
Tian Shihong highlighted that the establishment of IEC International Standards Promotion Center in Nanjing creates a new development mode with standardization at international, national, provincial and municipal levels, which will enable stakeholders at all levels to collaborate on standards internationalization, and share achievements.
International and domestic experts and representatives of enterprises shared their opinions on topics like "promoting industrial low-carbon development, realizing carbon peak & neutrality goals", "implementing national standardization strategies, serving green development" and "international standardization helps achieve carbon peak & neutrality goals" during the two-day forum.