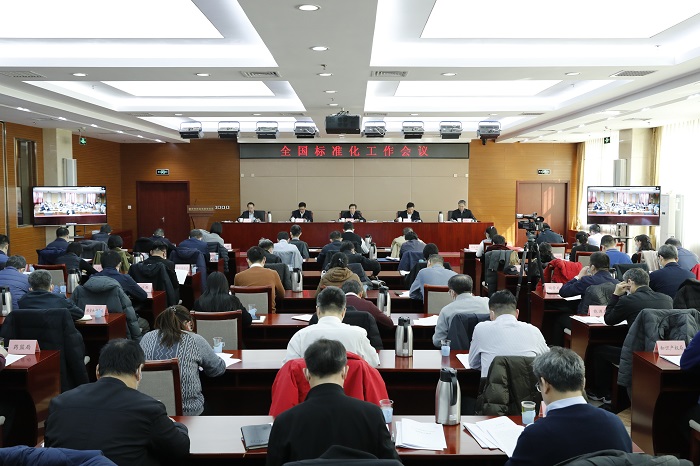 The annual national standardization work conference was held in Beijing on February 28, 2022, which summarized the standardization work in 2022 and deployed the key tasks in 2023. Tian Shihong, Vice Minister of State Administration for Market Regulation (SAMR) and Administrator of Standardization Administration of China (SAC) attended and addressed the event.
Tian fully affirmed the results achieved in the standardization area in 2022 and in the past five years. He emphasized that we should stimulate the vigor of business entities to drive standards supply from the government-led mode to the mode of both government-led and market-driven, support the high-quality development to promote the application of standards in all economic and social sectors, facilitate high-level openness to push the mutually promoted standardization development at national and international levels, and reinforce the efficient governance to transform the standardization work mode from focusing on quantity and scale to quality and benefit.
He also put forward the requirements on strengthening the leadership of the Party in standardization work, enhancing standards development in emerging technological fields and the standardization level of industries, making standardization play a supporting role in green development, developing more safety standards in needs, increasing standards supply in areas of people's wellbeing, enhancing international cooperation on standardization, deepening the standardization reform and innovation, as well as improving the standardization work system.
During the meeting, speeches were given by Sheng Qiuping, Vice Minister of Commerce, and Zhong Zhiyu, Chief Engineer of Ministry of Water Resources. The meeting in hybrid form was attended by representatives from relevant departments in Cyberspace Administration of China and the State Council, Equipment Development Department of the Central Military Commission, standardization departments in related organizations and industrial associations, departments of and units directly under SAMR, as well as market regulation departments across the nation.